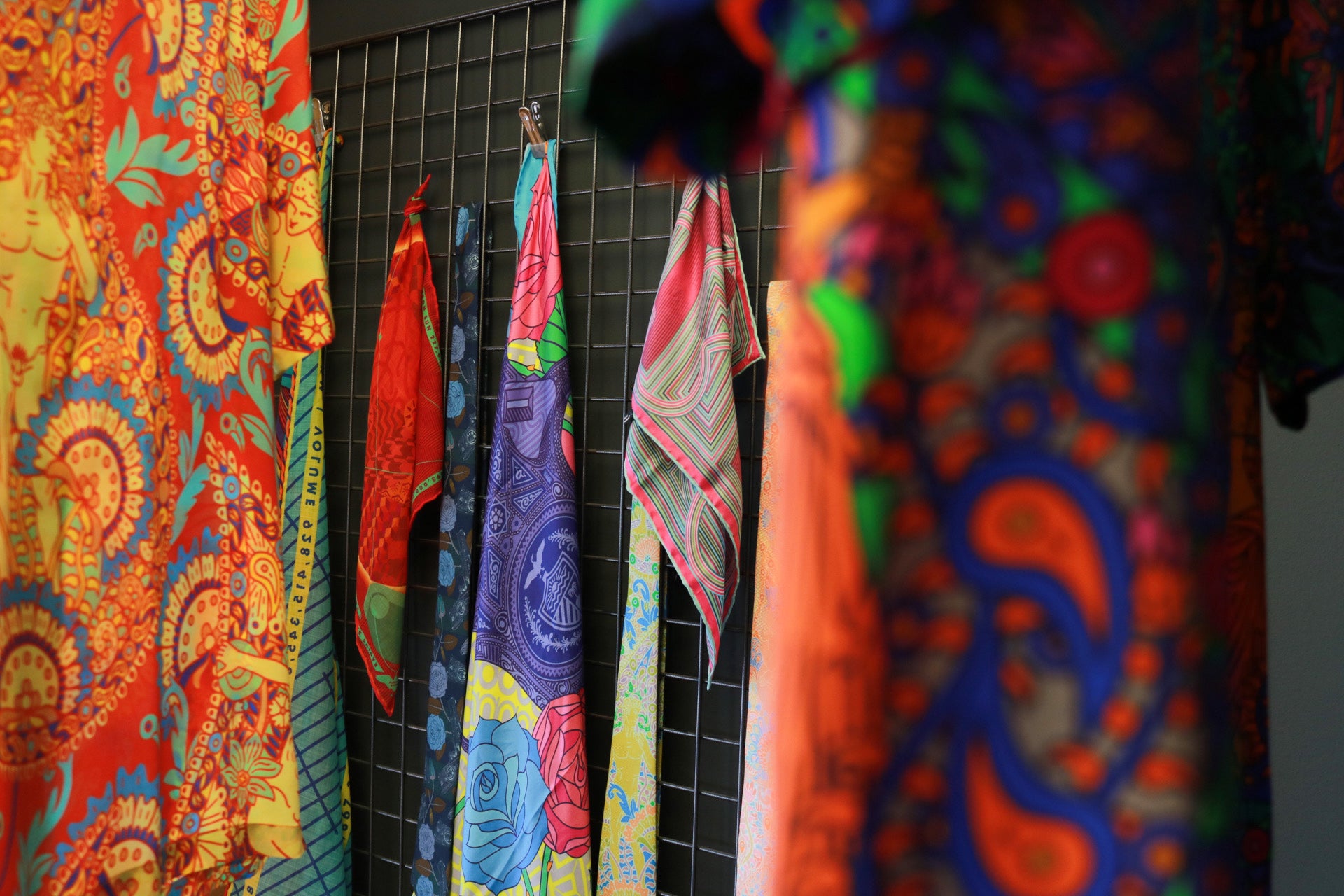 Unique gifts and souvenirs featuring fierce print and furious colour
Welcome to Furious Goose London
Our small but perfectly formed showroom is open and we'd love to see you if you're in London. We have all of our pocket squares, neckerchief, ties and silk scarves available to see and try on. As well as our unique one-off silk and vegan cuban shirts.
We're happy to advise you on colour choice and which collection is best, or to talk you through the inspiration behind each piece of wearable art.
There are also one-off, totally unique items that are not available on the website and check our social media for when we will be doing sample sales.
Alladin's Cave
If you're looking for a unique gift or souvenir of your time in London then come and have a browse. We make by hand in England in small artisanal batches – and often pieces are unique and one-off. And scarves are easy to pack!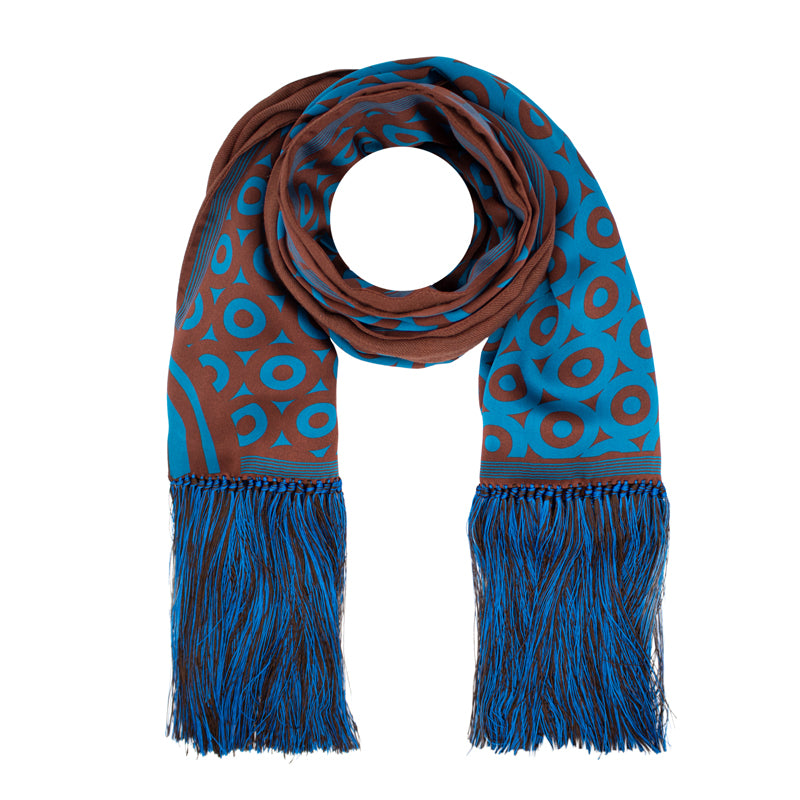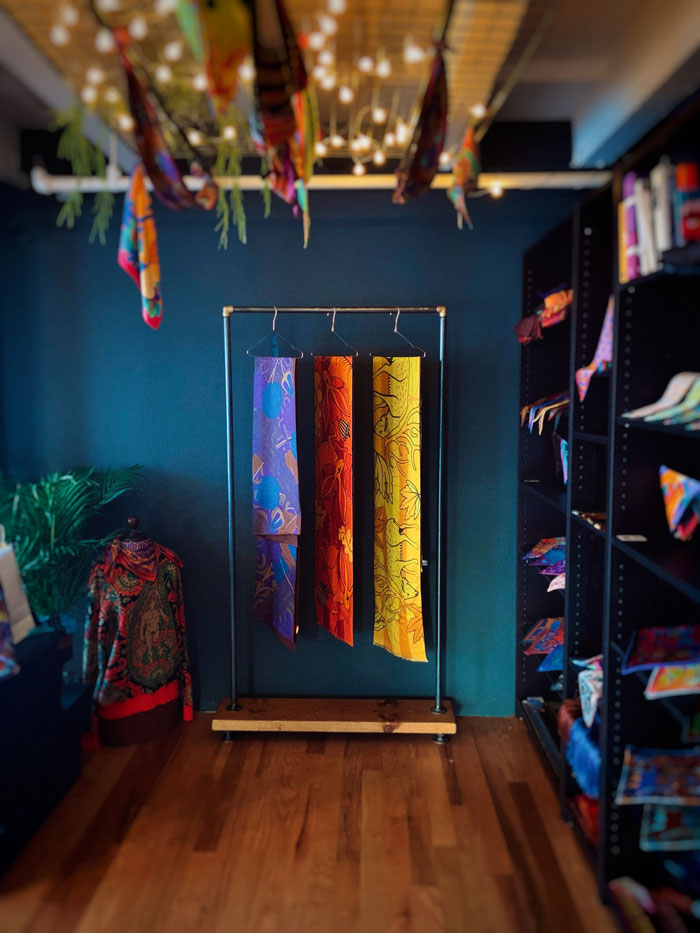 Last minute London Pocket Squares
Having our physical showroom now in central London is particularly useful if you're in a mad rush and need to pick up a show-stopping, British-made pocket square. We love sorting out last minute pocket square emergencies. Whether it's for Ascot, a last minute wedding or if you suddenly realise you need a special gift for someone, pop in and have a browse.
Where you can try on the boldest scarves in town
Our silk foulards and cashmere stoles are definitive statement pieces and are intended to be heirloom fashion that you keep and wear for a lifetime (and even hand down to the next generation). So it's important to get things right. If you're uncertain an want to try on a scarf just pop in. We don't have everything on display so if there is a particular colourway or design, let us know before you visit and we can have it steamed and ready to try on.
How to get to us
We are right in the heart of London, just a few minutes walk across the river from Covent Garden and neighbouring the South Bank and Tate Modern. The best tube is Blackfriars and you just walk across the bridge You'll see the OXO Tower as you admire the gorgeous views of the River Thames and London Skyline. See the map below for directions on Google Maps.
The boldest pocket squares in London
We have hundreds of bold designer pocket squares for you to choose from. One thing they all have in common is the quality of the design. Why not build your collection.
Shop pocket squares
British Designer scarves made in England
All of our silks, cashmeres and wools are printed and finished in the UK. Even our shirts are hand-made locally. We don't outsource so we can maintain top quality and high ethical standards.
Shop Scarves and Neckerchiefs
The silk neck tie is not dead in the capital
It seems that most Londoners have abandoned their neck ties and this turns the wearing one into an almost rebellious act. Once it used to be about conforming. Now it's about making a statement!
Shop Ties