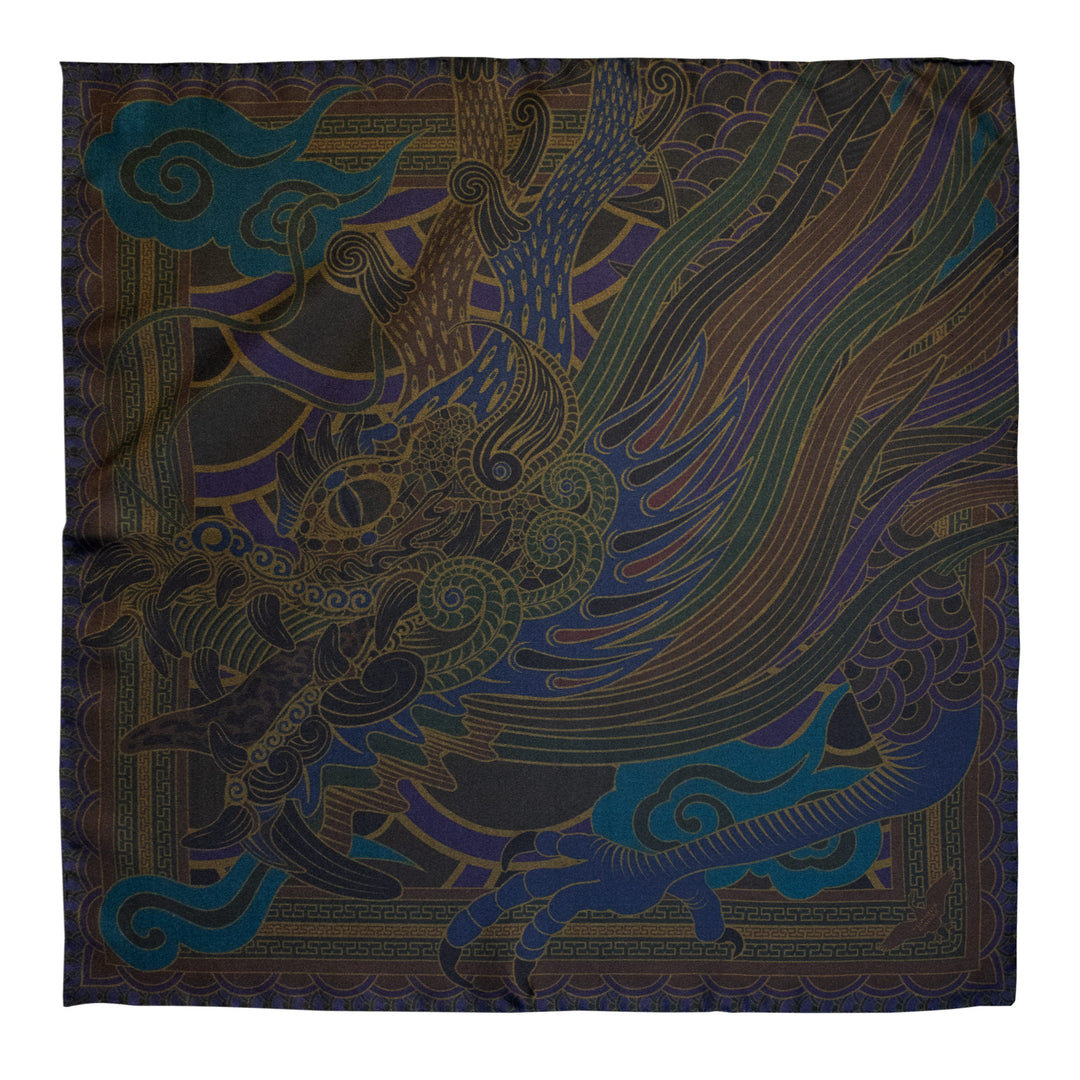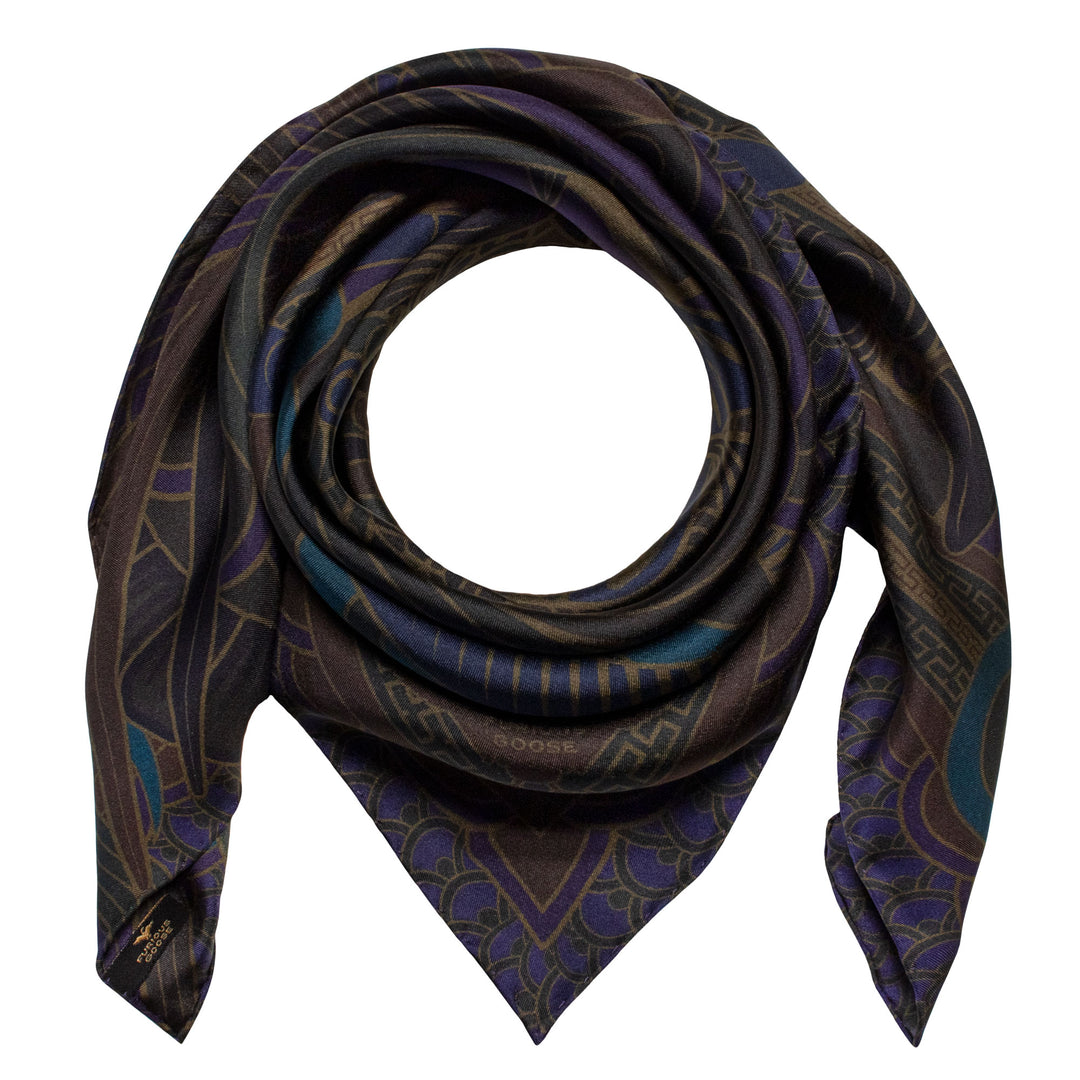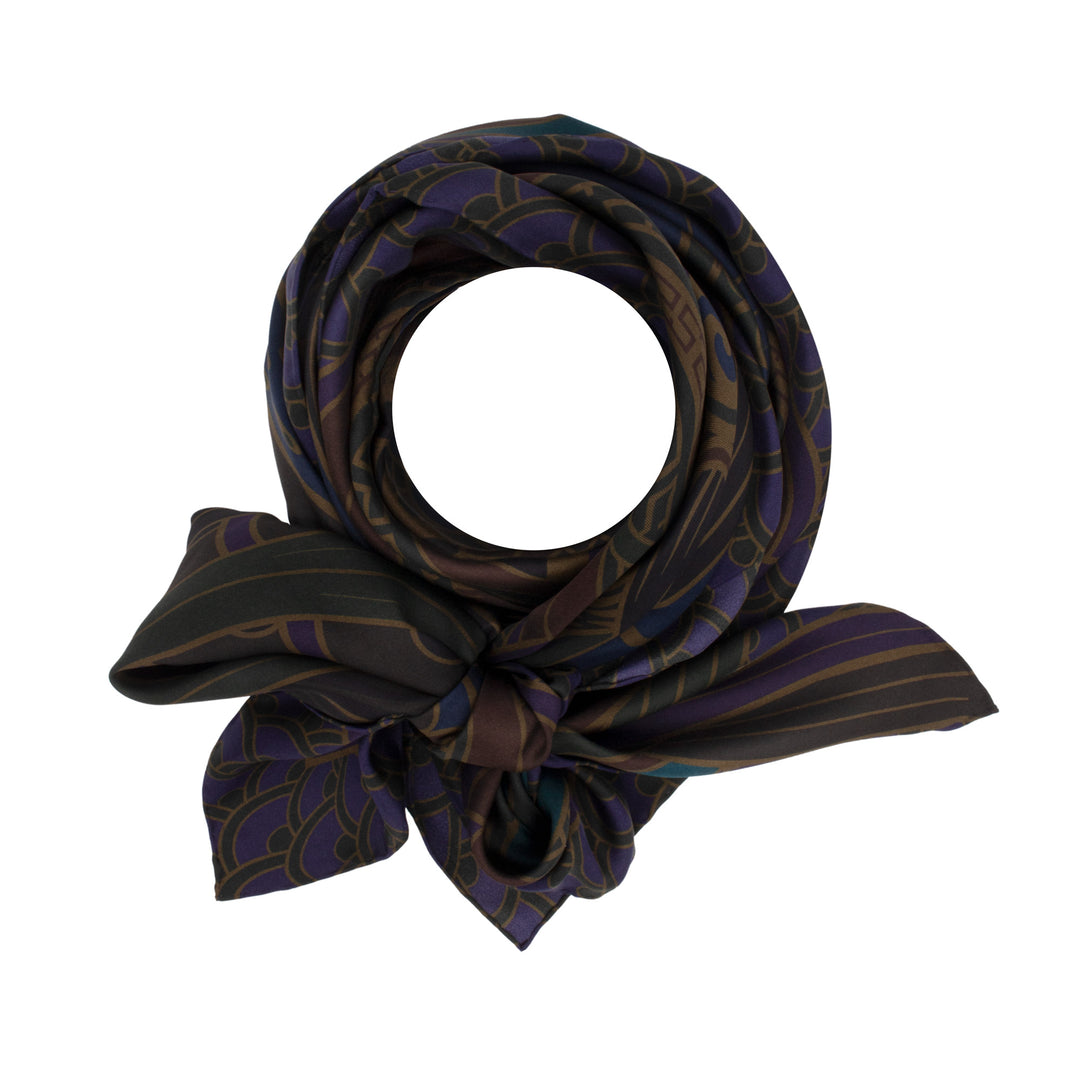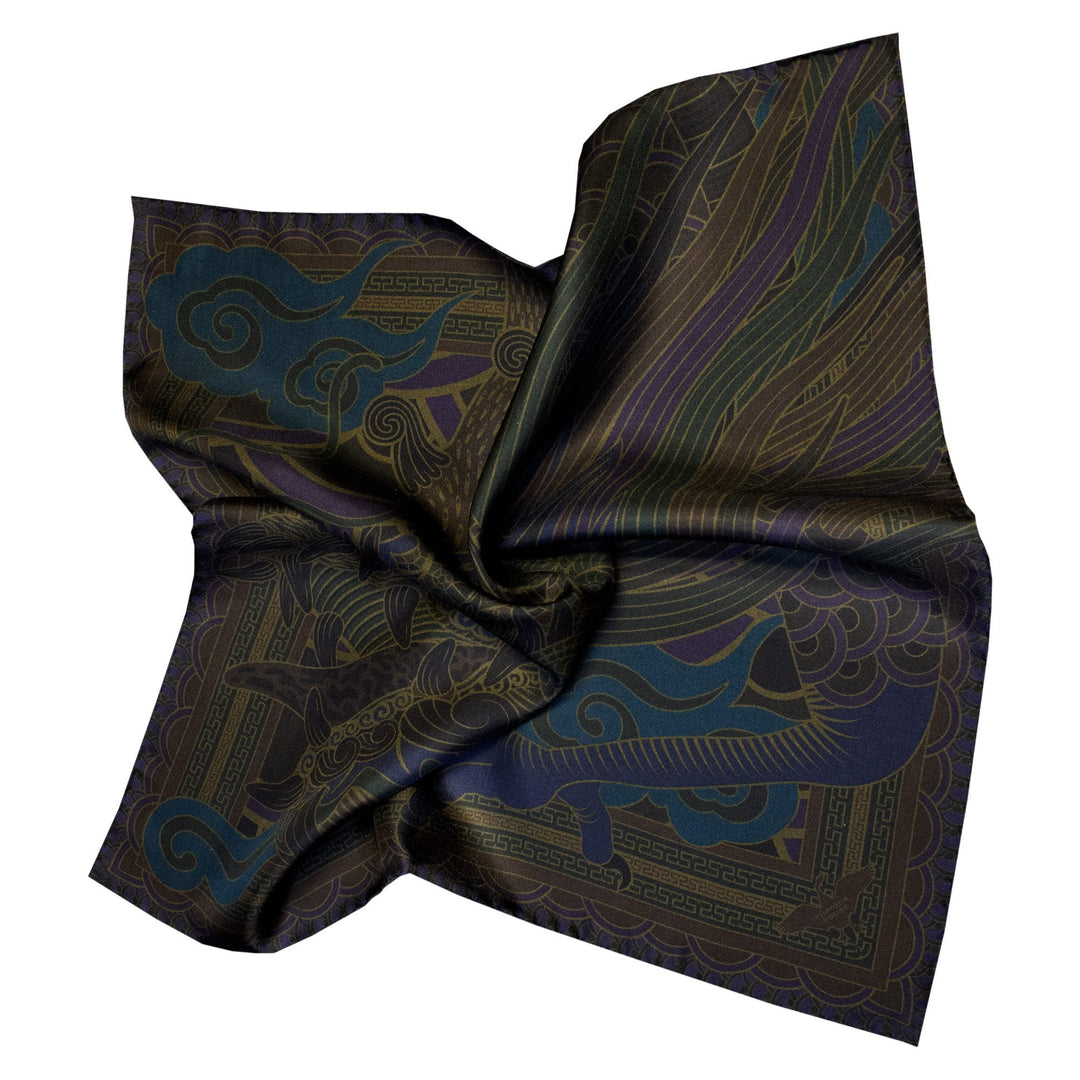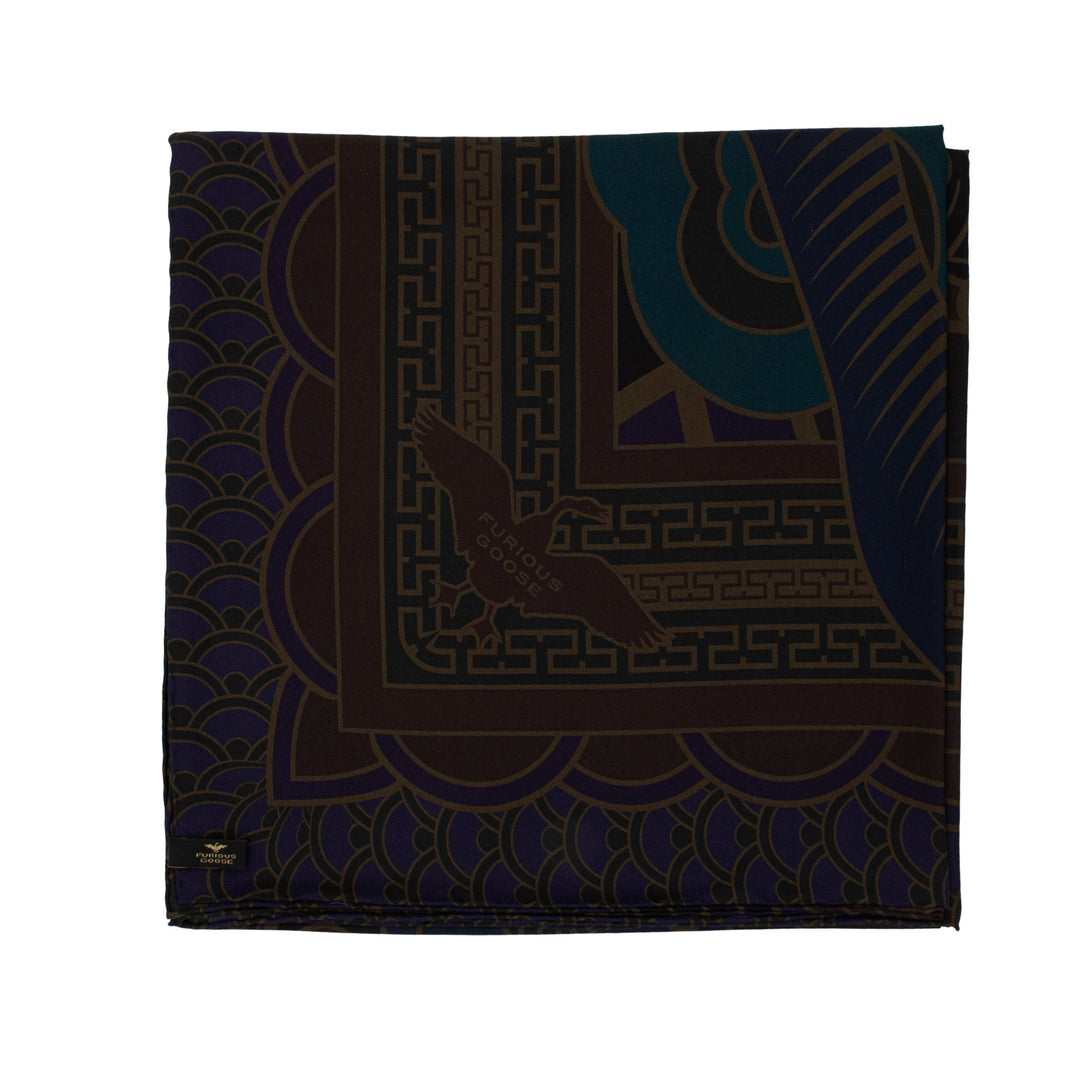 Dragon Scarf, Oriental Noctis – Silk Scarves
Regular price
Sale price
$193.00
/
Tax included.
Shipping
calculated at checkout.
---
Dark and moody silk dragon scarves in bronze, gold, purple and iridescent blue 
✓ 100% Silk Twill
✓ Two sizes 110cm and 65cm
✓ Exclusive presentation box
✓ Hand-made in the UK
✓ Sustainable luxury
Free UK shipping – Worldwide over £250
Introducing the Dragon Scarf Noctis – a unique and talismanic pure silk scarf that comes with a roar and packs a punch. The East Asian dragon is a formidable symbol of good luck so what better than this accessory to bring good fortune to your day. 
This bold and graphic design comes in two sizes, jaunty 65cm neckerchiefs and 110cm full-sized foulards. We are proud to be made entirely in Macclesfield, the 'Home of English Silk' and the official end of the Silk Road. 
"When the wind rises, when the dust rumbles, and the sky cracks and there is a great din, when it becomes dark and the wind blows, then it is said... the dragons are wrathful."
Dragons a symbol of elemental power and of good fortune, inspiring fear and wonder in equal measure.In our Dragon collection of luxury accessories we have brought two of these legendary creatures to life on silk. All tooth and claw is the lucky East Asian Dragon. And all feather and fang is Quetzalcoatl the flying serpent god of the Americas.
At first glance this scarf might be considered black but it is far from it. In fact it's multicoloured... just in very deep tones. The effect is delightful... almost like the diffraction rainbow you get on top of petroleum.
Thank you for choosing to shop with Furious Goose. Here are the details of how we will send your item out to you.
Fulfilment
We aim to wrap, pack and post every order within 2 working days. Postage: We ship for free in the UK on all products. If you are outside Great Britain there is a flat £15 fee to cover international postage. But we do offer FREE worldwide shipping if you spend £250 and over.  We use the Evri or the Royal Mail's First Class Signed For service for UK deliveries. For international orders we use Evri or UK Royal Mail's International Tracked & Signed service. The service aims to deliver to Europe within 3-5 working days and worldwide within 5-7 working days. 
During summer months we occasionally work to a slightly slower service of one fulfilment per week due to staff holidays. It's important to contact us if you have a specific or urgent date that an order is needed for so that we can arrange the delivery.  
Taxes and Duties
Please be aware you may incur import tax/duties when ordering from abroad.
Brexit
Please be aware that since the Brexit regulations changed you may incur tax duties when ordering from continental Europe. There are often delivery delays so if your order is urgent please let us know and we will arrange a courier for you.  
Urgent delivery
If you have a specific date like a birthday or wedding it is best to contact us to make sure that we will be able to deliver in time. It's better to be safe than sorry! For extremely tight turnaround times all is not lost – we may still be able to arrange a courier. The cost of this depends on the size of package, the destination and the speed of delivery. Please get in touch and we will organise everything for you. We use UPS or Parcelforce depending on who works out cheaper.