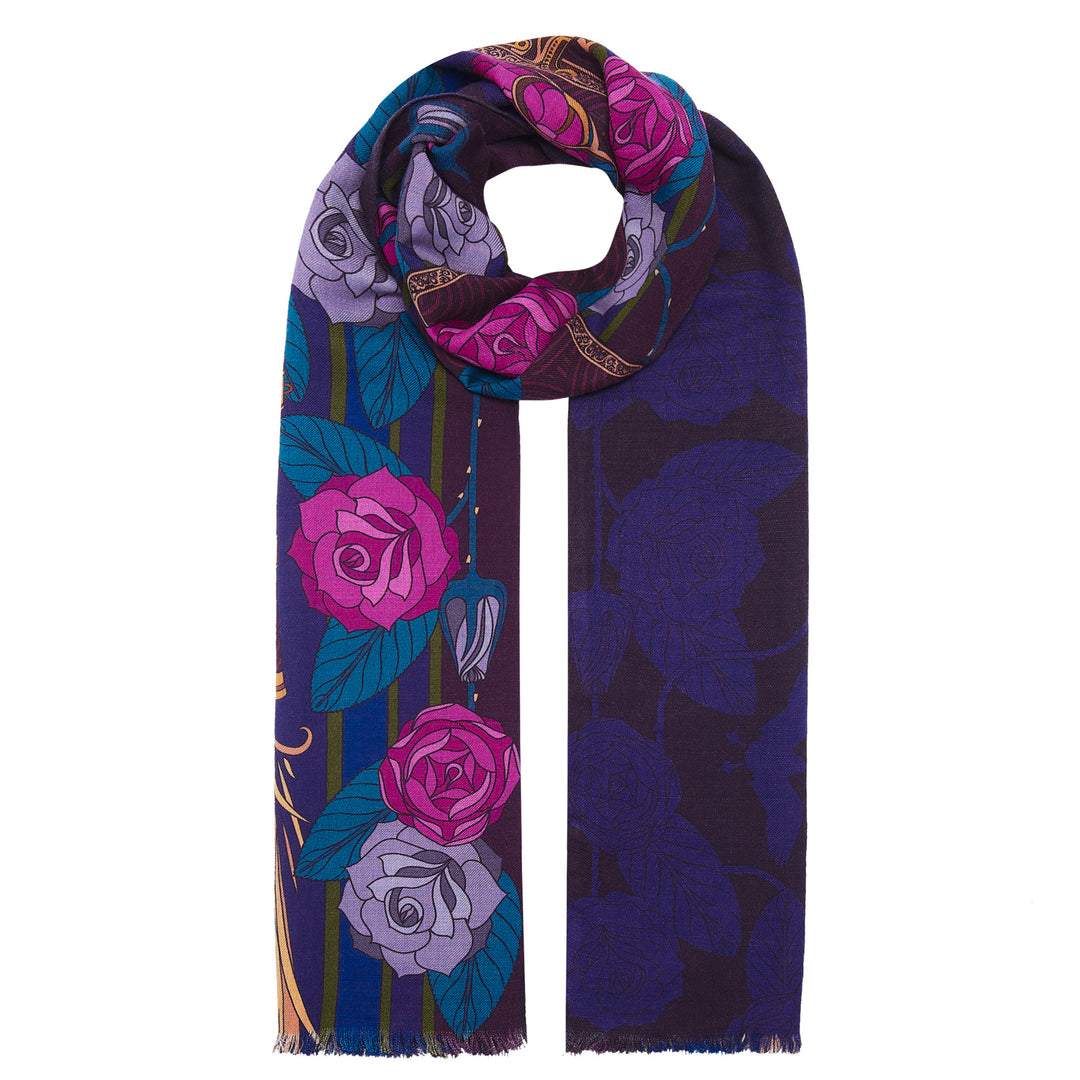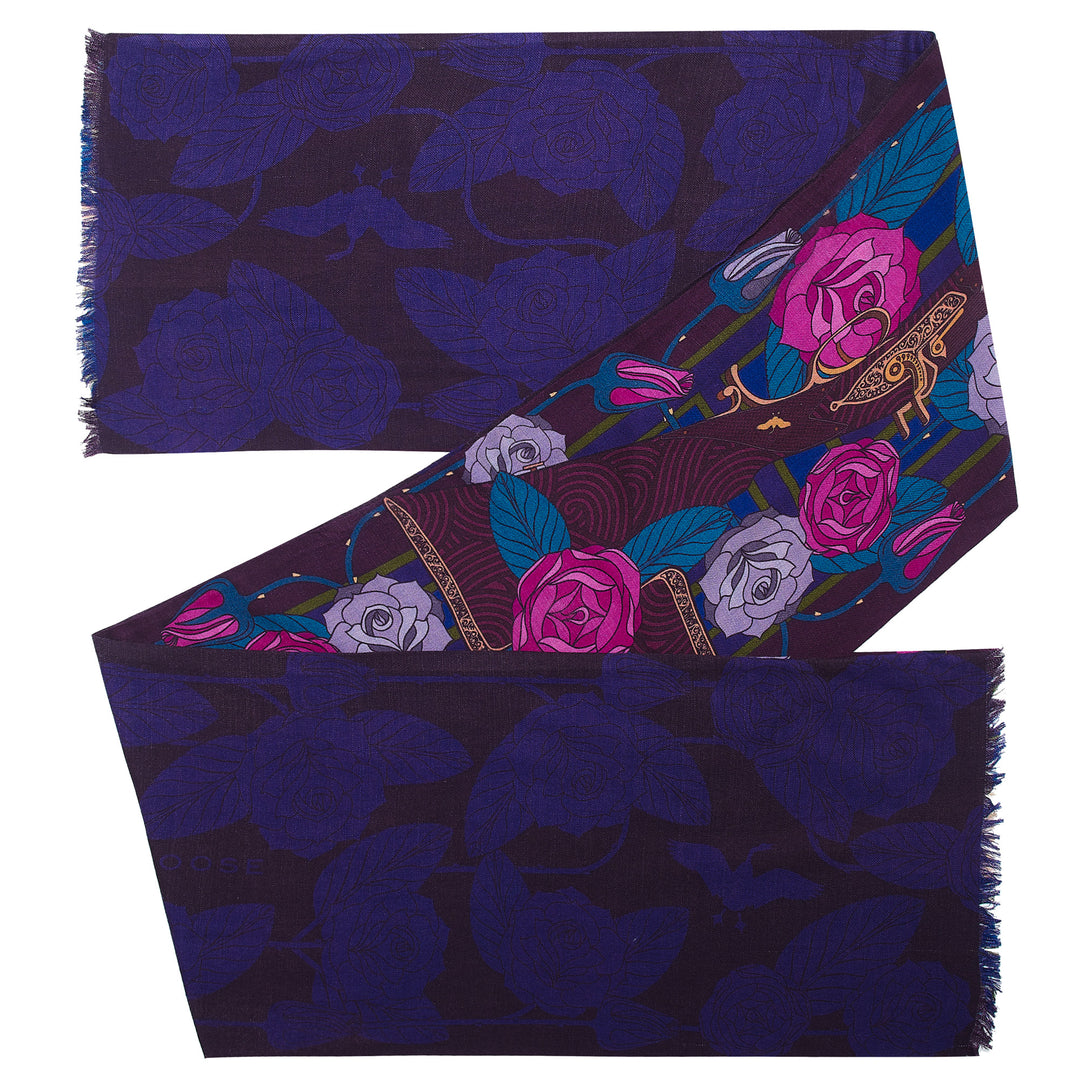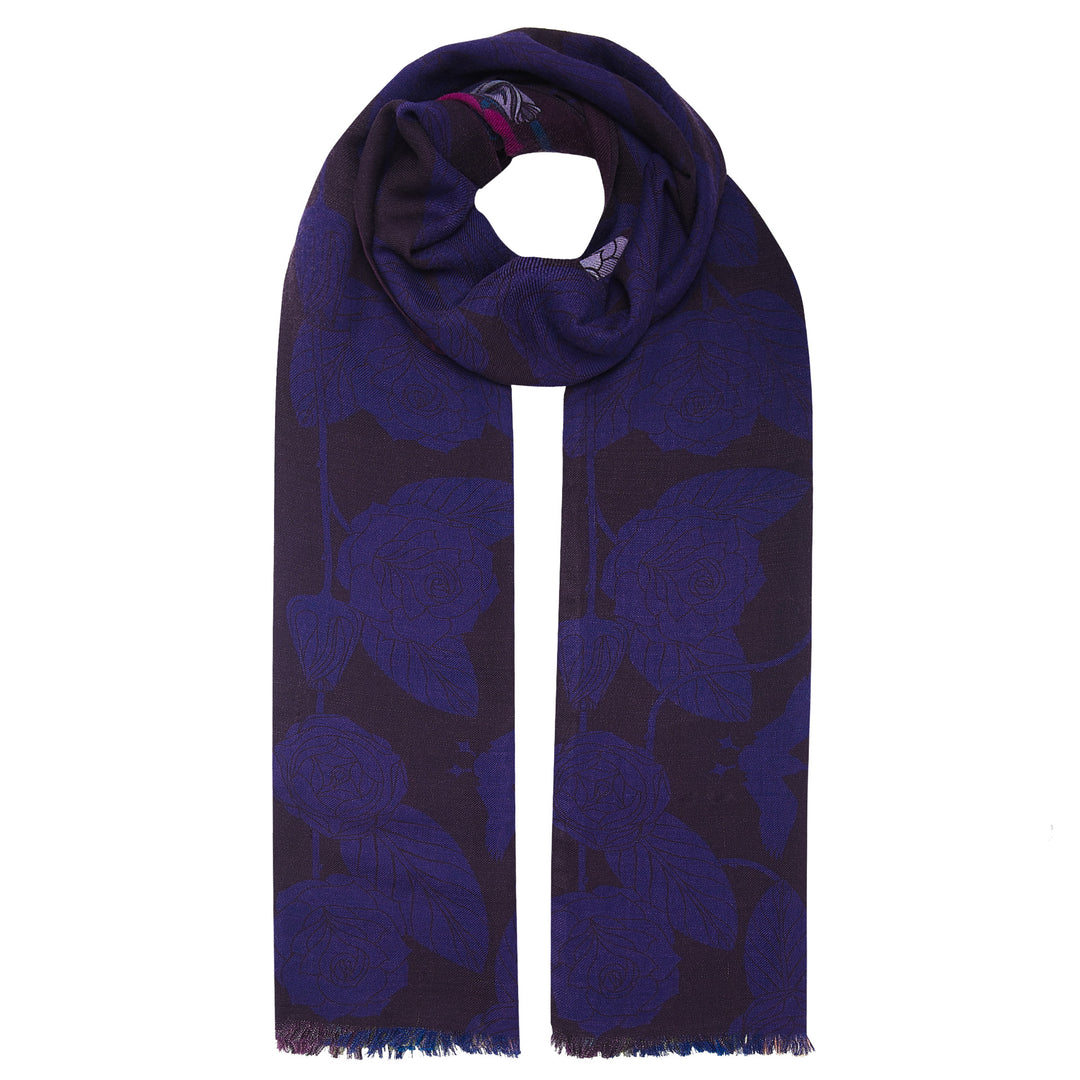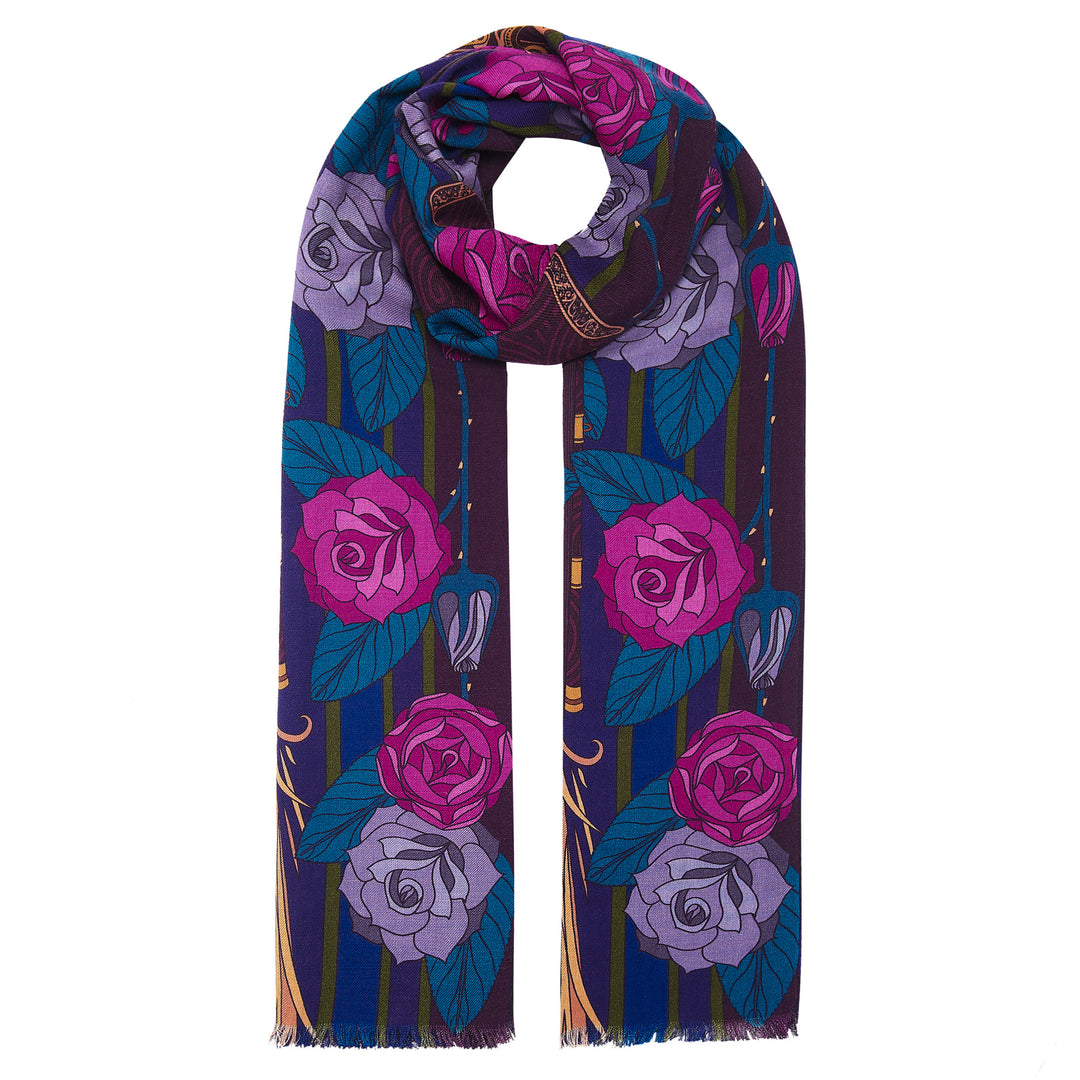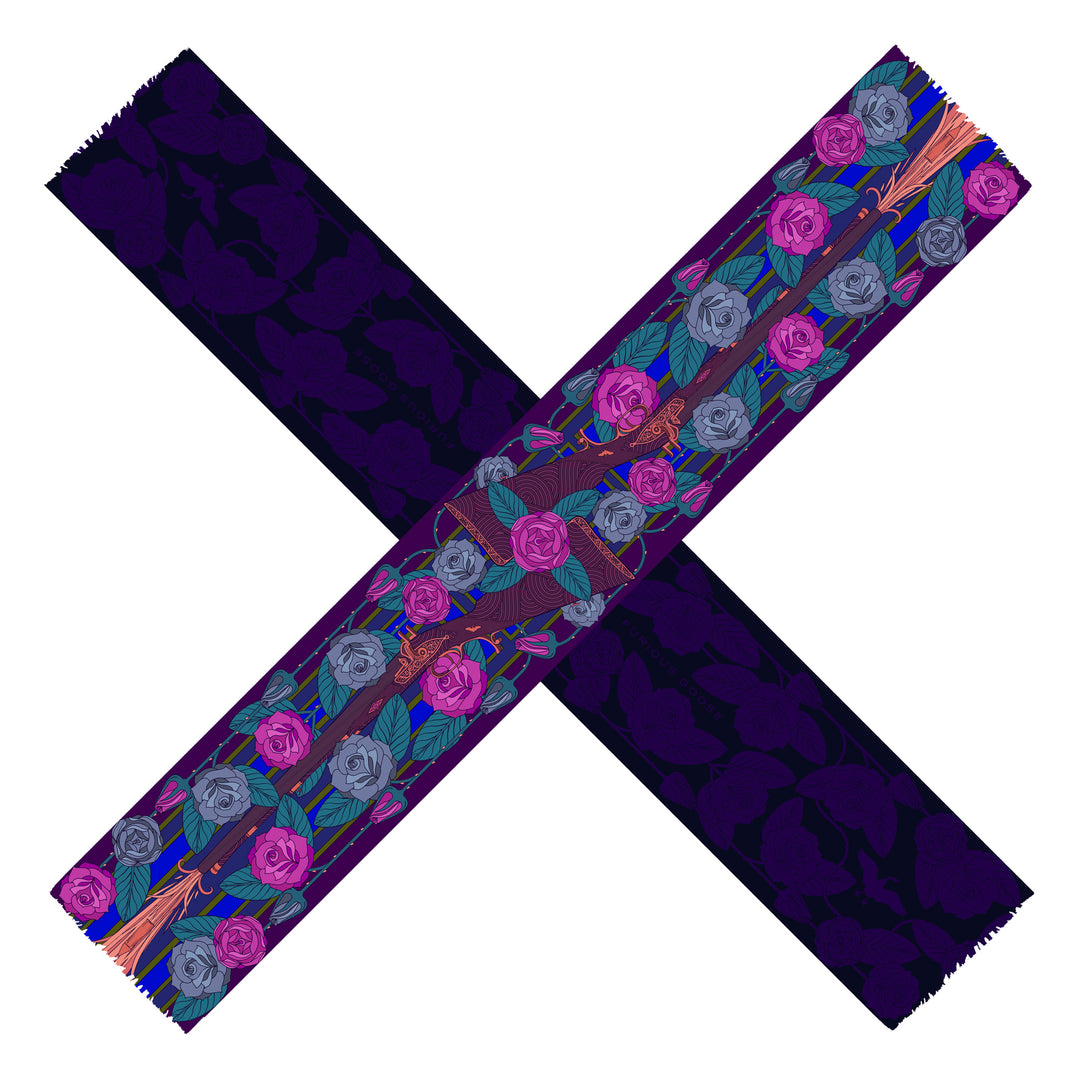 Maharaja's Rifle – Florence, Reversible Long Scarf
Regular price
$359.00
/
Tax included.
Shipping
calculated at checkout.
---
A regal and sumptuous silk scarf for ladies or gentlemen, blended with wool in imperial purples, lavender and contrasting teal.
200cm x 32cm – Silk Wool Blend  52% Silk - 48% Wool – Hand finished
Free UK shipping – Worldwide over £250
Silk and the finest wool give this truly covetable scarf the bright colours and elegant drape you'd expect from silk whilst offering the warmth of wool (without the itch!).
With two contrasting sides (one vibrant and eye-catching, the other muted and subtle) you can style this versatile accessory to suit your mood or the occasion. Simply fold to show your chosen side and then throw round your neck. Voila!
This intricately designed accessory belongs to the Guns and Roses collection and takes inspiration from a pair of engraved rifles that belonged to the Maharja of Jodhpur in the late Victorian period. The guns are braced in an art deco display of roses. This is floral print with a bit of a bang.
Our scarves come in branded presentation boxes so they can be kept in pristine condition.
Unique pocket squares, silk ties, square scarves and long silk-wool wraps show exquisitely crafted antique firearms braced in arabesques of roses. This explosive collection juxtaposes beauty and violence in exquisite colour and intricate detail.
Antique weapons have a strange allure. The love, care and artistry that was devoted to these violent objects is remarkable. And the image of a gun still has power today as Andy Warhol showed with his pop-art.
In Guns and Roses we show the terrible artistry of mankind surrounded by the beauty of nature.
The rich ducal history of Florence gave rise to this sumptuous purple colourway. On the dark side of this scarf the two purple colours are very tonally close but one has much greater saturation and a bluer colour. This gives them an electricity which catches the eye. On the vibrant side we have bright purples and pale dovelike lilacs contrasted with a jade colour for the leaves and yellow fire as the trigger is pulled. Yellow and purple are colour opposites so these little highlights really pop.
Thank you for choosing to shop with Furious Goose. Here are the details of how we will send your item out to you.
Fulfilment
We aim to wrap, pack and post every order within 2 working days. Postage: We ship for free in the UK on all products. If you are outside Great Britain there is a flat £15 fee to cover international postage. But we do offer FREE worldwide shipping if you spend £250 and over.  We use the Evri or the Royal Mail's First Class Signed For service for UK deliveries. For international orders we use Evri or UK Royal Mail's International Tracked & Signed service. The service aims to deliver to Europe within 3-5 working days and worldwide within 5-7 working days. 
During summer months we occasionally work to a slightly slower service of one fulfilment per week due to staff holidays. It's important to contact us if you have a specific or urgent date that an order is needed for so that we can arrange the delivery.  
Taxes and Duties
Please be aware you may incur import tax/duties when ordering from abroad.
Brexit
Please be aware that since the Brexit regulations changed you may incur tax duties when ordering from continental Europe. There are often delivery delays so if your order is urgent please let us know and we will arrange a courier for you.  
Urgent delivery
If you have a specific date like a birthday or wedding it is best to contact us to make sure that we will be able to deliver in time. It's better to be safe than sorry! For extremely tight turnaround times all is not lost – we may still be able to arrange a courier. The cost of this depends on the size of package, the destination and the speed of delivery. Please get in touch and we will organise everything for you. We use UPS or Parcelforce depending on who works out cheaper.