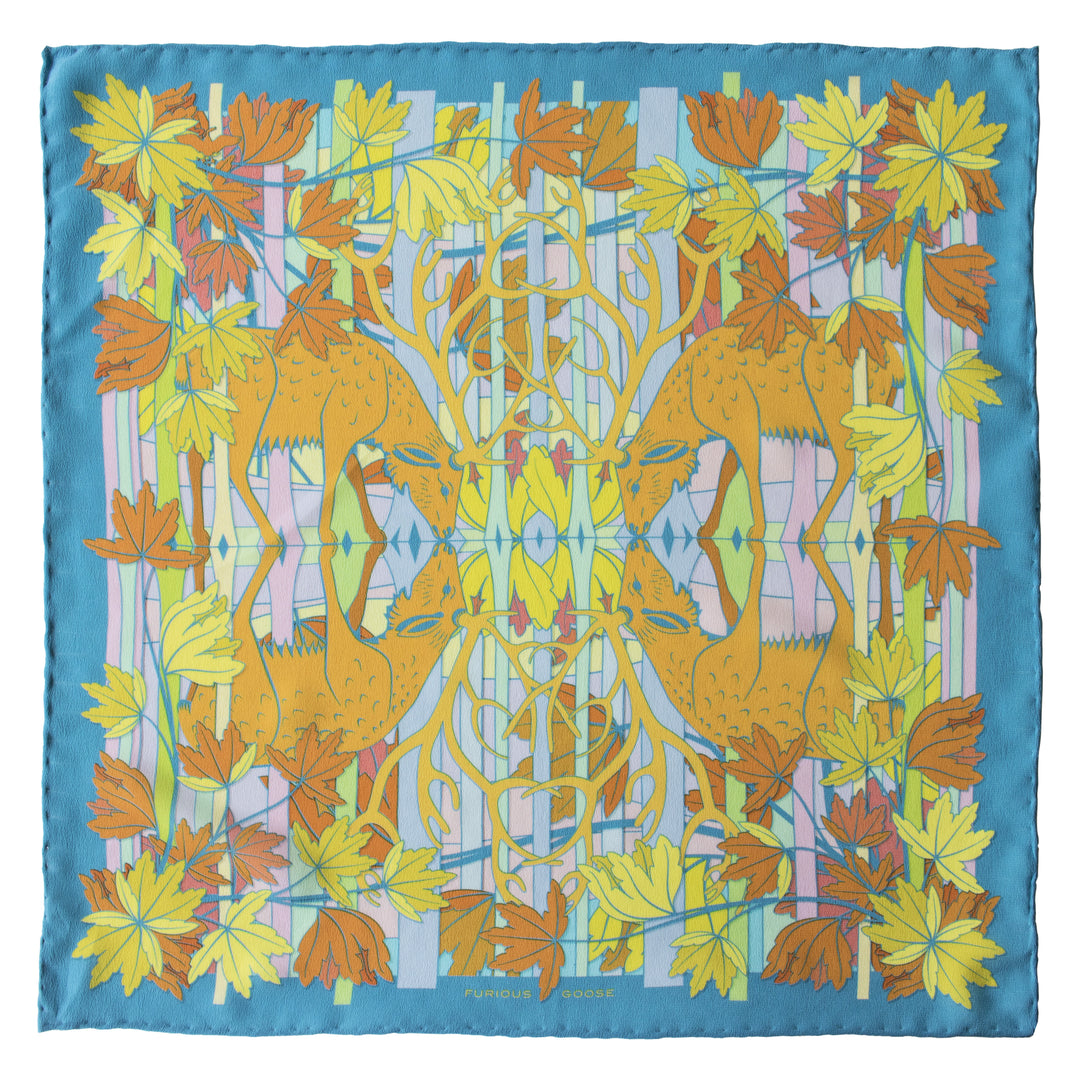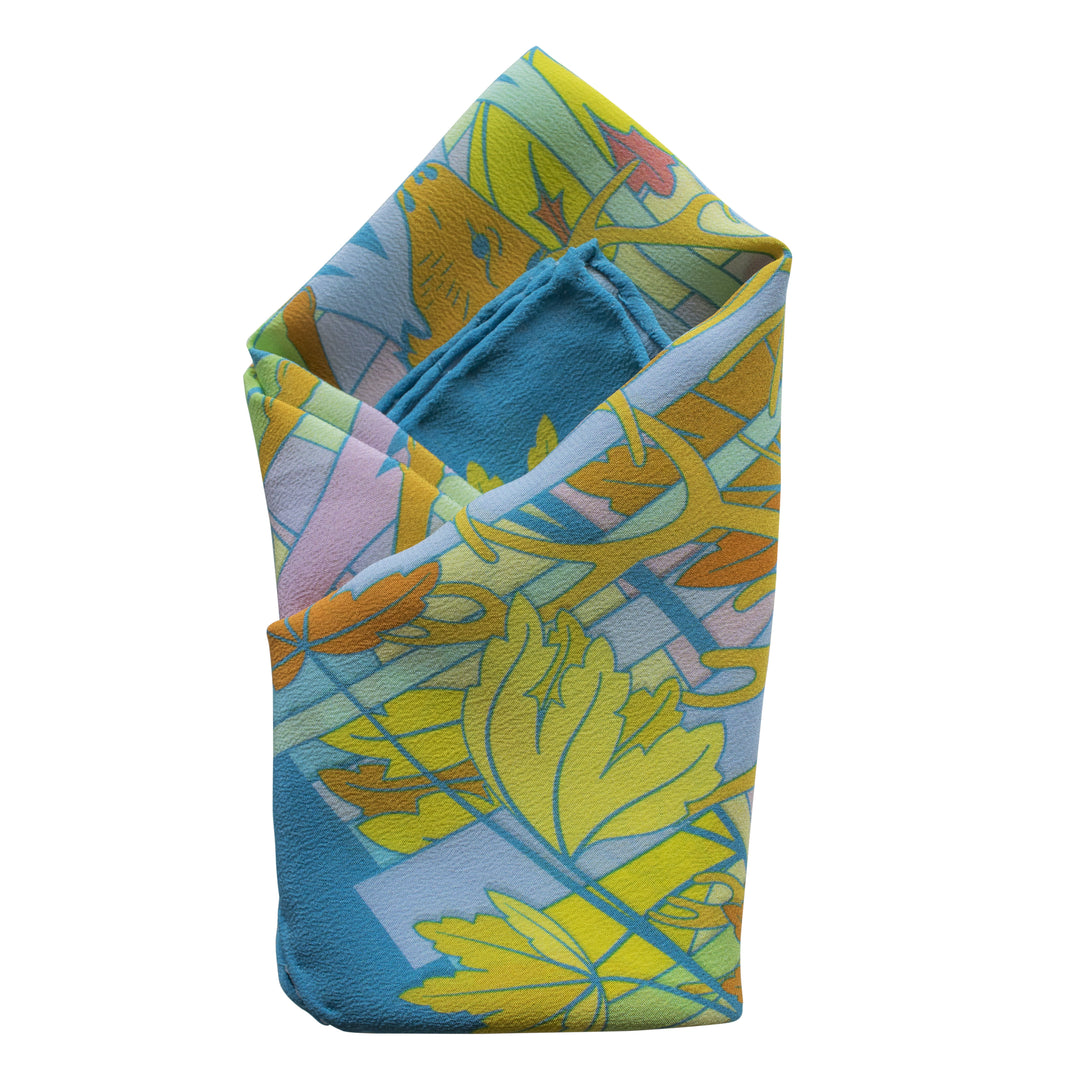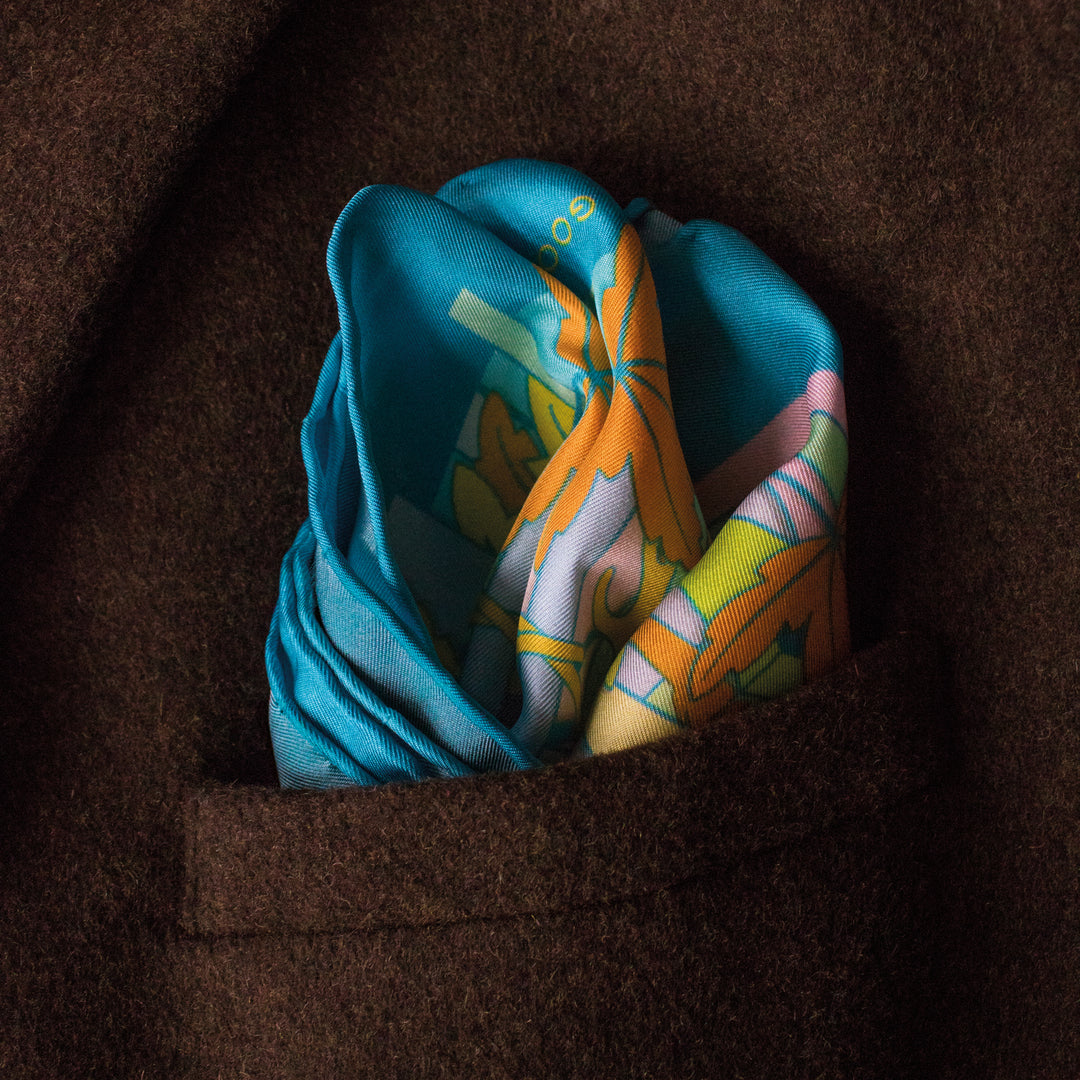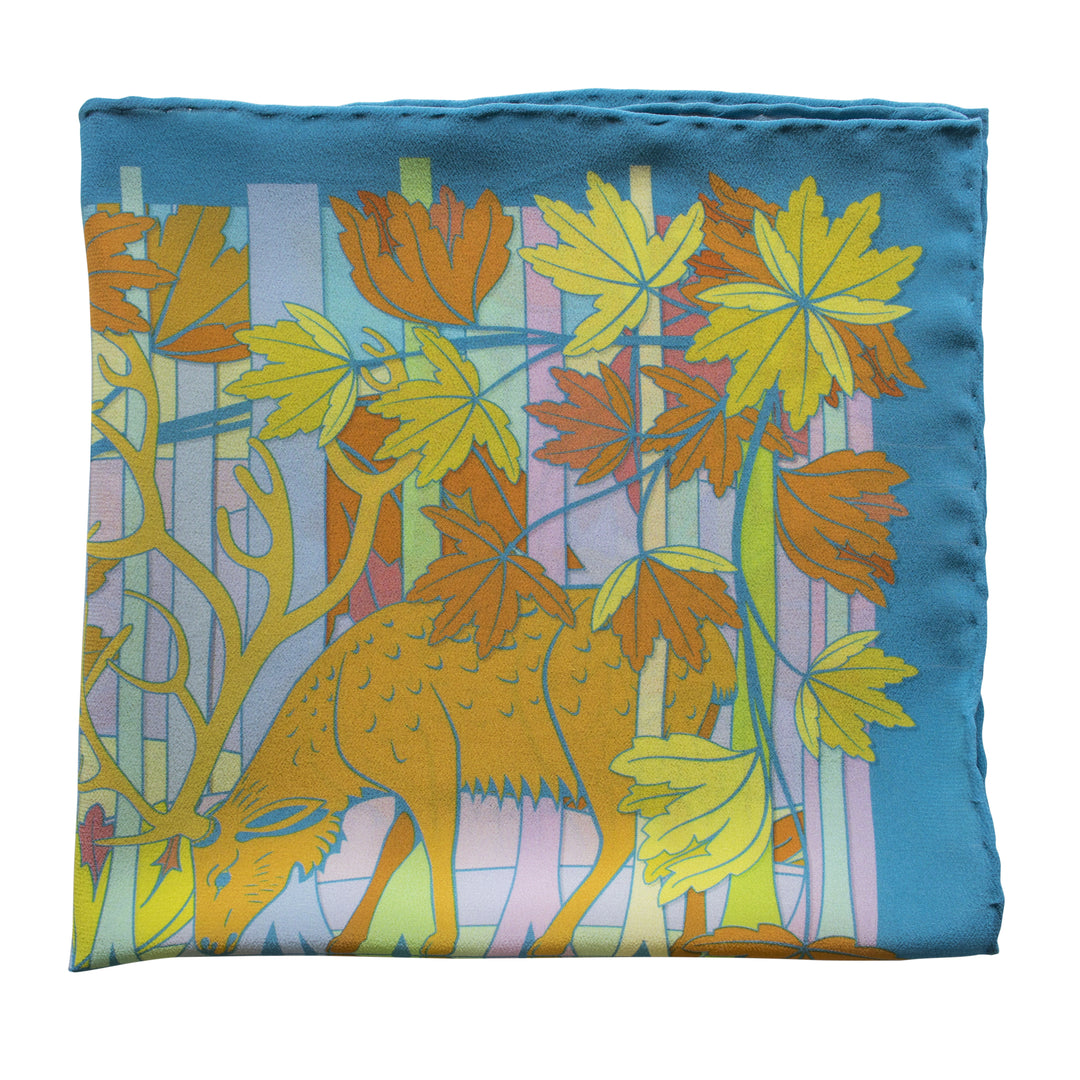 Stags – Sunrise, Pocket Squares
Regular price
$109.00
/
Tax included.
Shipping
calculated at checkout.
---
A beautiful silk handkerchief inspired by the forests of England and the stag, king of the woodlands
Free UK shipping – Worldwide over £250
In a glade of elegant sycamores a duo of stags are found quenching their thirst from a mirror-still woodland pond. This luxurious silk pocket square is designed on two planes of symmetry and is a delight to wear.
Stags are a deeply meaningful symbol for cultures across the planet from Celtic mythology to Shintoism. Like a crown, the antlers grow beyond its body, bringing it closer to the sky and making it sacred.
This pochette belongs to the Enchanted Forest collection which takes inspiration from the woodlands and forests of the UK.
The colours, psychedelically bright blues, bubble gum pinks and acid yellow, are truly unique and complement both dark blazers and light suits. With the Enchanted Forest theme, a good country tweed is particularly appropriate.
This designer pocket square is 42cm x 42cm allowing you to really play with this luxury accessory achieving fantastic pocket square folds. It is large enough to wear as a neckerchief or even to wrap round your favourite summer hat.We have finished our pocket squares with great care and a hand-rolled hem. This gives our  squares a luxury look and feel and that classic chunky and distinctive edge.
Our pochettes come in branded presentation cases so they can be kept in pristine condition.
Bring the magic of the forest to the urban jungle with these luxury pocket squares, large silk scarves and reversible silk-wool winter scarves. Inspired by some of our most symbolic creatures, this collection of enchanting hares, stags and foxes occupy dreamlike woodland scenes in a riot of colour and a swirl of leaves.
We had a lot of fun with this Miami inspired colourway. The starting point was using a bright cyan for the lifework. We rarely use black outlines in our designs – They're way too easy. Plus... Using an intense lighter colour forces careful balances of hues and tones and generally creates a more exciting colourway.
Thank you for choosing to shop with Furious Goose. Here are the details of how we will send your item out to you.
Fulfilment
We aim to wrap, pack and post every order within 2 working days. Postage: We ship for free in the UK on all products. If you are outside Great Britain there is a flat £15 fee to cover international postage. But we do offer FREE worldwide shipping if you spend £250 and over.  We use the Evri or the Royal Mail's First Class Signed For service for UK deliveries. For international orders we use Evri or UK Royal Mail's International Tracked & Signed service. The service aims to deliver to Europe within 3-5 working days and worldwide within 5-7 working days. 
During summer months we occasionally work to a slightly slower service of one fulfilment per week due to staff holidays. It's important to contact us if you have a specific or urgent date that an order is needed for so that we can arrange the delivery.  
Taxes and Duties
Please be aware you may incur import tax/duties when ordering from abroad.
Brexit
Please be aware that since the Brexit regulations changed you may incur tax duties when ordering from continental Europe. There are often delivery delays so if your order is urgent please let us know and we will arrange a courier for you.  
Urgent delivery
If you have a specific date like a birthday or wedding it is best to contact us to make sure that we will be able to deliver in time. It's better to be safe than sorry! For extremely tight turnaround times all is not lost – we may still be able to arrange a courier. The cost of this depends on the size of package, the destination and the speed of delivery. Please get in touch and we will organise everything for you. We use UPS or Parcelforce depending on who works out cheaper.